WB6TOU-11 Circumnavigation
Mar 22, 2020
On aprs.fi, we can to track the flight of WB6TOU-11 under an SB-13 weather balloon from the departure near Sacramento March 7 to the last ping northeast of Vancouver March 19.
As expected, there are gaps in the data at night and over oceans and remote terrain. But I was able to follow it through the northern tier, over Newfoundland, back ashore in northern Europe, across China and Japan (where the winds at 40,000 feet were light, evidently, as it took 17 hours to go only about 200 miles), across the Pacific to the mountains near Cache Creek, B.C.
The last ping is only a couple of miles from Highway 99, but it may be difficult to recover the balloon, since it's in a mountain valley about 3,500 feet above sea level, about 2,000 feet above the higway. You'd have to hike up through this swale (Google Street View below). And I doubt it's still pinging for direction finding.
Congratulations to David Voit WB6TOU and his crew for a successful flight!
See the San Francisco High Altitude Ballooning group for some discussion of the flight. Sounds like David may try again to achieve more than one trip around!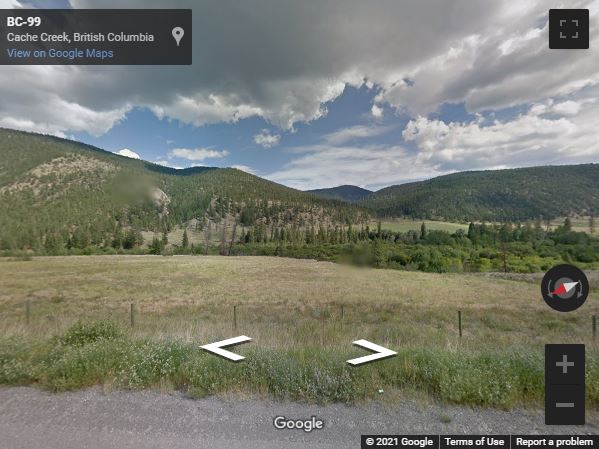 ---

© Copyright Steve Williams
Except where noted, this work is licensed under a
Creative Commons BY-NC-SA License
.
Created March 22, 2020, Last Modified January 7, 2021 | Validate:
HTML
CSS
RSS
| Cache: hits: 1